Visit Shackleford Banks in Beaufort NC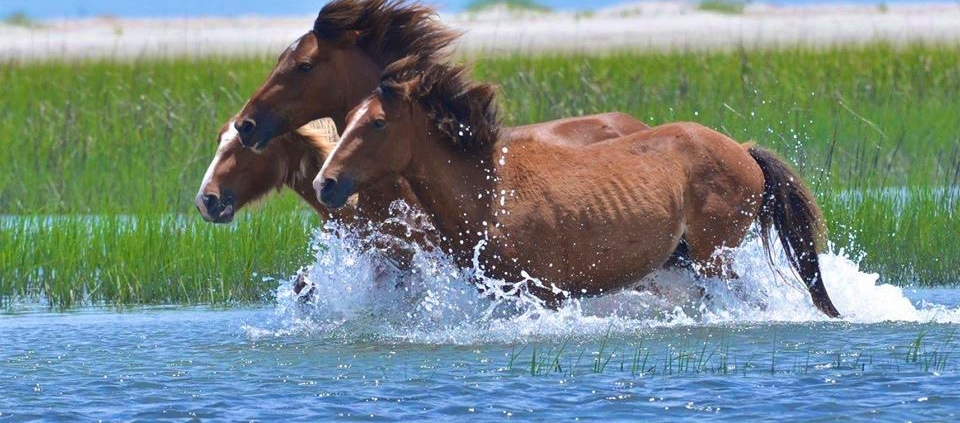 The Shackleford Banks are part of the Cape Lookout National Seashore and are a must for visitors and residents alike who want a moving experience on a deserted barrier island landscape. While the island may be deserted by people, it is teeming with amazing wildlife, ranging from fish to the famous Banker Ponies. If you've recently purchased one of the Beau Coast homes in Beaufort NC, be sure to plan a visit to the Shackleford Banks. It's just one of the many great reasons to call Beaufort home.
Virginia planter, John Shackleford, was the first to acquire the Banks in 1713, when he was granted several tracks of coastal NC land, including the narrow barrier island that is now known as Shackleford Banks. Originally known as Cart Island, in reference to Carteret County, where it is located, it remained in the Shackleford family until it was sold in 1805. From then on, a number of hurricanes played a part in the Banks' history.
In the early 1800s, the island became known as Diamond City as it built up a permanent community of residents. However, a hurricane in 1899 caused most of the residents to leave the area and by 1902, all were gone.
After Mother Nature ran out the residents, she further shaped the banks with the 1933 Outer Banks Hurricane that opened up an inlet on the eastern edge of Shackleford Banks. This caused the banks to be permanently separated from the Core Banks and the Cape Lookout Lighthouse. Finally, in 1960, the island was acquired by the National Park Service and became part of the newly formed Cape Lookout National Seashore. Since then it has become a popular vacation destination, while still being something of a hidden gem.
While people may not be residents on the island any longer, there are still some residents who are incredibly popular. The Banker Ponies are feral horses whose ancestors are thought to have been shipwrecked Spanish mustangs who made the island home in the late 1500s. They've been roaming free along the beaches, forests, and thickets and are favorites of visitors. However, remember that these are feral horses and keep your distance (at least 50 feet) as they're not used to interacting with people. Just stand back and admire their grace and beauty.
The Banker Ponies may be one of the most popular animal residents, but there's plenty of wildlife to see and enjoy, including gray foxes, otters, ghost crabs, blue crabs, and a variety of creatures.
The Shackleford Banks is bordered to the north by the Back Sound, and to the south by the Atlantic Ocean, with its western edge bordered by Beaufort Inlet, and eastern end bordered by Barden Inlet. Being just a few miles from Beaufort, it offers a wonderful adventure for residents who want to get to know more about the local beauty and history of the area. Reserve your spot on one of the many ferry services that run from downtown Beaufort and enjoy a beautiful day on the fascinating barrier island. Just remember that this is a place dedicated to nature, so there are no bathrooms, restaurants, etc., and you're expected to bring your own food and drinks and take your trash with you. You don't want to spoil this fantastic scenery!
When you purchase one of the Beau Coast homes in Beaufort NC, you get so much more than just a beautiful home. You get a community filled with fascinating history, enticing architecture, great dining, unique shopping, and best of all, some truly magical adventures just waiting a short ferry ride away. Contact us today to learn more about how you can call Beau Coast home and start planning your own day trip to the Shackleford Banks.
https://www.beaucoastnc.com/wp-content/uploads/2020/04/35162237_2077020585902582_5775853993683058688_o-version-2_49467407457_o.jpg
750
960
Beau Coast
/wp-content/uploads/2022/04/beau-coast.png
Beau Coast
2020-07-22 15:45:52
2022-02-15 18:39:50
Visit Shackleford Banks in Beaufort NC